More than 80,000 people have seen the latest digital fashion show that the clothing store H&H in Hörnefors arranged for the benefit of Umeå City Mission - without having spent a penny on marketing. When the pandemic hit, Heléne Fredriksson and Helen Bergström and team were quick to adapt and thanks to creative solutions and strong customer relationships, the store continues to reach thousands via facebook and instagram every week.
- I am most proud of the tremendous support and response we have received from our customers, it is for them that we do this, says Helén Fredriksson.
33 years ago, Bergström walked into the local kiosk and asked if Fredriksson would like to start a clothing store. The rest of the plans were drawn up in the car on the way to a football match and Butiq H&H (Helen and Helén) was a fact.
- We didn't know each other, but she had a feeling and now here we are thirty years later, having grown from 60 to 500 square metres. It's been an amazing journey with a lot of hard work, but we love it," says Helén Fredriksson.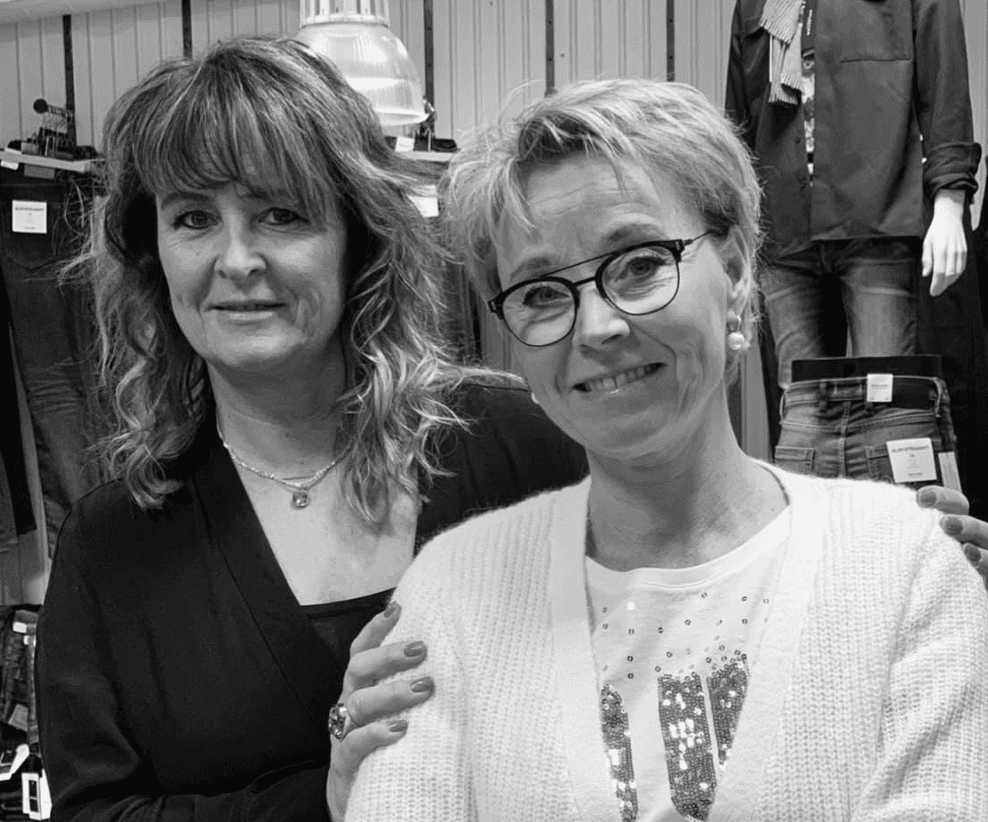 She says that they have been working almost every Saturday since they started in 1987. The driving force throughout the years has been the joy of creating something of their own and their passion for the clothing industry and personal service. When the business closed last spring, the owners were worried. But true to form, they didn't sit down and feel sorry for themselves, they got to work. It was the same energy that had been there since the beginning that was now being used to turn things around.
- It was a survival strategy that worked, for us and for our customers. We had millions worth of stock that we couldn't let burn inside, so we didn't have time to think too much," says Helén.
Tackling the pandemic with digital fashion shows
When H&H celebrated 30 years a few years ago, they arranged a celebrated fashion show in the Idunteatern in Umeå. With 600 paying visitors, they stunned the ticket service crew at Ticnet, who didn't really think it was possible. With the pandemic having just paralysed large parts of society, they came up with the idea of holding a fashion show again - this time digitally.
- We were probably among the first in Sweden to arrange a digital fashion show. I think we actually helped inspire more people to try it. We had never done anything like that before, not in that way. It was homemade from scratch with a mobile phone glued to a ladder, but it worked. The response was fantastic and we have our customers to thank for that," says Helén.
It didn't end there. Despite some glitches in the system, they managed to hold another digital fashion show in the autumn and a third one last December for Umeå City Mission. Then things really took off. Helén continues:
- I think we're up to over 83,000 views, 84 shares and hundreds of comments on the broadcast on Facebook, and we haven't paid a penny in marketing, we never have. When you think about it, it's absolutely amazing.
Friday movies and Facetime shopping
The rapid transition from being primarily a physical store to really going online includes the much-loved Friday movies. Every week, the Hörnefors gang releases short videos that promote new garments, update the store and inform about what's going on - often with a twinkle in their eye.
- We receive daily comments and messages from customers who appreciate our videos. I've even been stopped several times in town. It's incredibly funny. We want to create a recognition factor and convey the same feeling that customers have when they meet us in the store, even during the pandemic.
There will also be sales linked to the Friday films. Helén explains:
- People from all over Sweden are getting in touch to watch the films. They call, send messages and tell us what they want to buy. It could be a particular garment shown 3:20 into this or that video.
In addition to video clips on Facebook and Instagram, H&H has also developed the Facetime shopping service. Something that is becoming more and more popular.
- It's as simple as a customer contacting us and telling us what they want. We show them the shop via video call and set up a test cab. People often buy for around SEK 2,000 to 4,000. It's a great way to provide personal service remotely and we find that it suits our customers, especially in these times," says Helén.
Helén is careful to emphasise that digital development would not have been possible without competent employees. Petronella Strandberg has special responsibility for social media at the construction site, and her knowledge and creative ability have been invaluable.
With customer relations in focus
When asked why H&H has been so successful in shifting to more digital offerings, the answer is customer relations. It's something Helen and Helén have valued for a long time and something you never take for granted. But the ingredients, according to Helén, are not that complicated.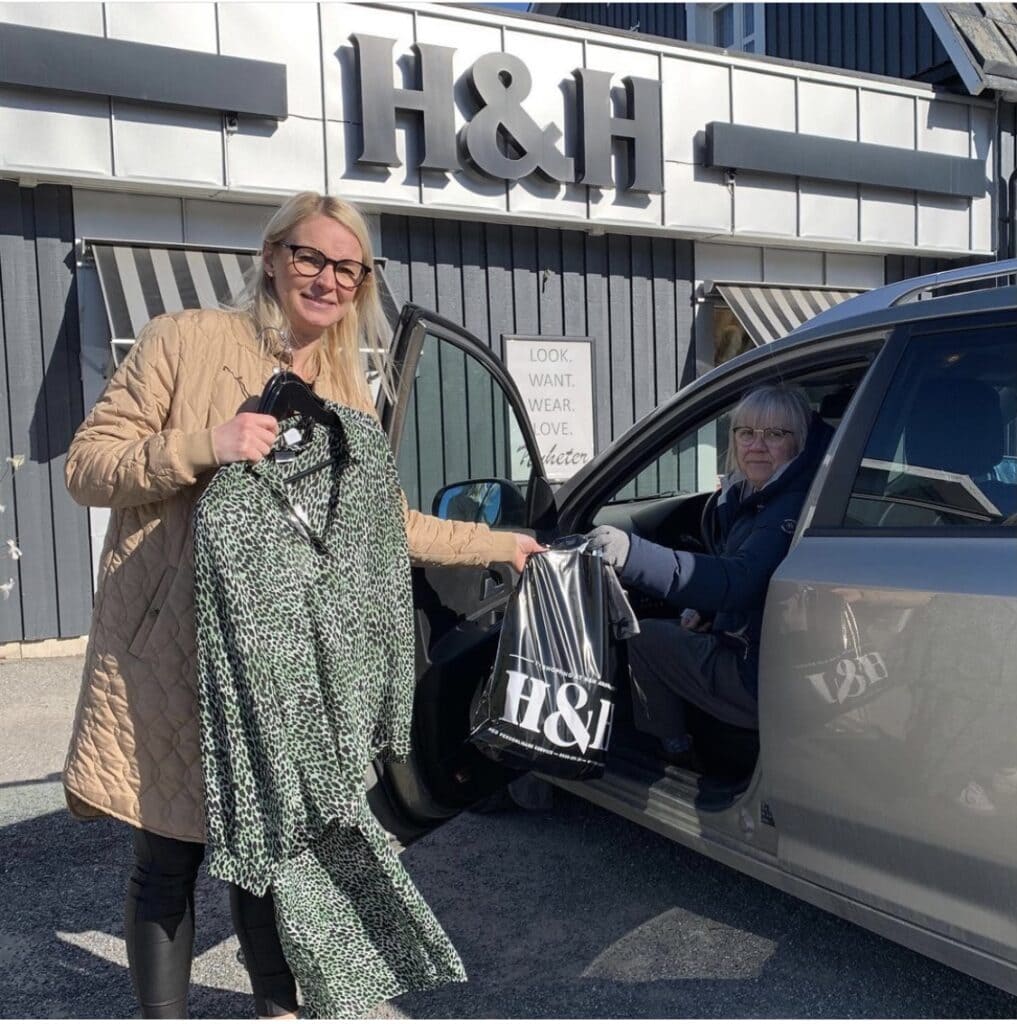 - It should be a pleasure to come to us, whether physically or digitally. We always want to energize and make sure you get personalized service for real. We are simple people who love to interact with people and I believe and hope that this will rub off. When you hear that people are longing to come to us, it makes you extremely proud. But it really goes both ways, we get so much energy and joy from our customers. It would never have been possible to work the way we have otherwise for over 30 years.
Owners Helén Fredriksson and Helen Bergström continue to struggle despite the wet blanket of corona pandemic. Of course there are things that worry them, but they are hopeful that vaccination will take off and that we as a society will continue to take responsibility and help each other.
In the meantime, H&H at kungsvägen 13 in Hörnefors is ready to spread warmth and joy through personal service that leaves no one indifferent - digital or not. If I may guess: at least for another 30 years.
H&H has previously been part of the advanced accelerator programme Future Retail Lab. Applications for the next round are now open. Read more here.